Caring for your health means more than selecting a great plan of care. Effective health management should incorporate diet, exercise, and lifestyle adjustments to effect long-lasting change. With heart disease as the leading cause of death in the United States, diet trends such as keto, paleo, and the Mediterranean diet have gained notable popularity. However, before adopting a diet plan, it is important to have an understanding of how to have a healthy heart before choosing how to best support it.
Sorting through the pros and cons of each diet plan is a hassle. The following is a quick guide to establishing a heart-healthy diet under the guidance of reliable resources such as MyPlate.gov and the National Heart, Lung and Blood Institute.
Looking for tips on how to have a heart healthy diet?Learn more about how we encourage heart health through tips like how to get good exercise, encourage good dental hygiene, or even fun tips like is dark chocolate healthy!

Save up to 50% or more on your family's health care! Input your ZIP Code below for a free OneShare Health quote!

Aim for a Balanced Plate
When choosing a diet plan, it is vital to ensure that your plate is well-balanced and provides the nutrients your body needs at each meal. According to the National Heart, Lung and Blood Institute (NHLBI), a heart-healthy plate should consist of fresh, frozen, or no-salt-added canned vegetables such as green beans, carrots, cabbage, tomatoes, squash, broccoli, and okra; fresh, frozen, canned (packed in fruit juice) or dried fruits without added sugar such as oranges, papayas, bananas, apples, mangoes, pineapples, watermelons and peaches; proteins such as chicken, turkey, tofu and lean cuts of beef or pork; and dairy items that are low in fat and sodium.
A balanced, heart-healthy diet should consist of 1.5 to 2 cups of fruit, 6 to 8-ounce equivalents of grain, 3 cups of fat-free or low-fat dairy, 2.5 to 3 cups of vegetables, and 5.5 to 6-ounce equivalents of protein per day. Learning how to eat healthy can present a learning curve, so it is important to take any steps you can to set yourself up for success.
Plan Meals in Advance
The most common area where people fail to transition to a healthy diet is the lack of planning. Sticking to your typical grocery items is easier when you're faced with the demands of a busy schedule. Planning meals weekly ensures that you have a plan for meals that incorporate heart-healthy foods and provide a "road map" to stick to.

Start Gradually
Altering your diet can feel overwhelming, especially when following the diet plan may mean giving up your preferred foods or favorite snacks. Rather than going "all in" at the start of the diet, focusing on one or two things can help to ensure a smooth transition and increase the probability of sticking with the diet long-term.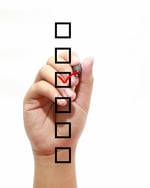 Set Attainable Goals
Understanding what you want to accomplish through the diet will help to reinforce positive lifestyle habits and give you a goal to work toward. Whether you want to feel better, lose a few pounds, or increase your healthy food intake, set a goal that is attainable yet challenges you and helps you move one step closer to the lifestyle you desire.
Establishing a diet that promotes the health of your heart and supports physical well-being is as simple as making a plan and sticking to it. If you have any underlying health concerns that require special diet adjustments, consult with your doctor before making any lifestyle changes to ensure you are caring for your body in the healthiest way.
Save up to 50% or more on your healthcare!
If you don't want to go the Obamacare route with Open Enrollment, and also want to save money on your care, check out our Health Care Sharing Ministry that's exempt from the ACA. OneShare Health is an alternative to traditional insurance coverage, we are a Health Care Sharing Ministry that could start saving you thousands per year on your healthcare! Click below to learn more or get your free OneShare Health quote today.

"Give, and it will be given to you. A good measure, pressed down, shaken together and running over, will be poured into your lap. For with the measure you use, it will be measured to you."
Luke 6:38 (NIV)