No, Christian health insurance does not exist.
Let's face it: navigating the health care industry can be a headache for some, but that's why we're here!
In this article, we'd like to address a common misconception about health insurance (remember, OneShare Health is not health insurance, but a Health Care Sharing Ministry that facilitates the sharing of Eligible medical expenses for and through our Members!). Keep reading to find out what really has people scratching their heads these days.
How Does Medical Cost Sharing Work?
Medical cost-sharing is used to describe the collective effort between Members of an HCSM, such as OneShare Health, to pay Eligible medical expenses. As a OneShare Health Member, the Monthly Contribution Amount you pay goes into a pool of financial resources, which are then used in behalf of other Members' who have submitted Eligible medical bills for sharing.
But, sharing denotes a sense of reciprocity, right? So, whenever you submit medical bills for expense sharing, you will receive the same kind of assistance from your fellow Members! Neat, right?
Is Christian health insurance legit?
Actually, there's no such thing as Christian health insurance. Rather, if you are still in need of a reliable, affordable, and flexible program that isn't insurance, Health Care Sharing Ministries (HCSMs) can facilitate your Eligible health care expenses instead!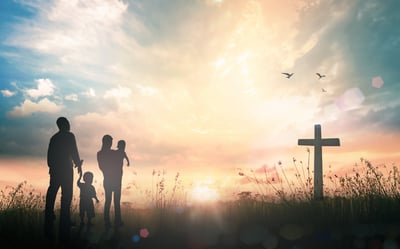 Is OneShare Health legit?
Yes! OneShare Health is a legitimate, non-health insurance, ACA-exempt option to the rising cost of health care. As a Health Care Sharing Ministry, OneShare offers three different Membership Programs that allow our Members to share the cost of Eligible medical bills with fellow Members.
Founded in the Anabaptist faith, OneShare Health is a Christian HCSM and not insurance. Our Mission is to inspire healthier, joyful communities on the path of life, using Scriptural principles to connect people of similar faiths in a quality HCSM. We've even partnered with notable Provider Networks like First Health® Network to bring our Members nationwide access to reputable providers and health care facilities.
Why You Should Join a Christian Health Care Sharing Ministry
As a life-giving, Christian Health Care Sharing Ministry, we are committed to refreshing others (Proverbs 11:25) and helping our Members and their loved ones live healthier, joyful lives at an affordable monthly cost (which we call your 'Monthly Contribution Amount'). Not only that, but all of your Eligible medical expenses can be submitted for sharing, so you don't have to bear the burden of paying for medical bills alone1 (Galatians 6:2).
And, did we mention the work we do as a 501(c)(3) non-profit organization? Yes, a portion of your Monthly Contribution Amount not only helps the OneShare Sharing Community but also charities across the nation whose Mission and Vision closely align with our own.
Would you like to learn more about OneShare Health, our Programs, or the work we do with other non-profits? Subscribe to the One Share, One Voice Blog and visit our Knowledge Base for all your burning questions!

Since there is no option for Christian health insurance, check out our Christian health share!
OneShare Health provides a pathway to affordable health care for our Members and their loved ones. In addition to fitting a variety of lifestyles and budgets, each of our three Membership Programs provides access to the nationwide First Health Network, 24/7 Clever HealthTM Smart Virtual Care (Telemedicine) Services, behavioral health resources at no additional cost, and much more! Do you enjoy supporting local charities? OneShare checks that box, too. Not only are we a non profit, we also support local charities who align with our Mission and Values!
Get your free OneShare Health quote or click below today! Our Sharing Family can't wait to meet you.
"Carry each other's burdens, and in this way you will fulfill the law of Christ."
Galatians 6:2 (NIV)

1 Eligibility of all Sharing Requests are subject to Membership Guidelines.