We all know that exercise is good for our physical health, but did you know that it is also one of the great ways to relieve stress? So how does exercise reduce stress? Exercise releases endorphins, which have mood-boosting effects. It also helps to clear your mind and give you a break from whatever is causing your stress.

Save up to 50% or more on your family's health care! Input your ZIP Code below for a free OneShare Health quote!

Exercises to Relieve Stress
So, if you're feeling stressed, try getting some exercise! Here are a few different exercises that can help to relieve stress:
Aerobic Exercise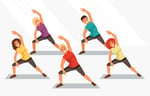 In aerobic exercises, you use your muscles to work hard enough to need more oxygen and make your heart beat faster, which helps relieve stress. If you want to relax, try going for a walk, jogging, or bike ride steadily. Aerobic exercises not only help ease your stress but will also help you live a healthier lifestyle.
Yoga
Yoga is an excellent way to relieve tension in your muscles and thoughts. It can be challenging, but there are plenty of poses you can try to help you become less stressed. In addition, mindfulness and meditation are the perfect way to wind down and sink into relaxation mode.
Strength Training
Strength training has many benefits, both physical and mental. One of the most important benefits is its ability to help relieve stress. When you work out, your body releases endorphins, which have mood-boosting properties. In addition, strength training helps increase muscle mass, which can lead to a more positive body image and improved self-esteem. Furthermore, regular exercise has been shown to reduce the risk of developing conditions such as anxiety and depression. Consequently, strength training can be an effective way to combat stress. So if you're looking for a way to relax and unwind, consider adding some strength-training exercises to your routine.
Stretching
When you feel stressed, your body tightens up to protect itself. This natural response has served humans well throughout our evolutionary history. However, the problem is that this reaction often persists even after the danger has passed, leading to chronic muscle tension and feelings of stress. One of the best ways to counter this reaction is to stretch. Stretching helps loosen up tight muscles, relieving physical tension and improving range of motion. In addition, stretching also helps increase blood flow and release endorphins, both of which can help to improve your mood and reduce stress levels. So the next time you're feeling overwhelmed, take a few minutes to stretch. It just might help you to feel better.
Mind-Body Exercises
For most people, stress is a part of daily life. But when stress becomes overwhelming, it can take a toll on your physical and emotional health. Mind-body exercises are a simple and effective way to help you manage stress. These exercises help increase mindfulness, which is the ability to be present at the moment and focus on your breath and body. Mind-body exercises can also help to improve your mood and reduce anxiety. In addition, research has shown that mind-body exercises can be an effective treatment for stress-related conditions, such as headaches, insomnia, and digestive problems. So if you're looking for a way to reduce stress, mind-body exercises may be right for you.
So, next time you're feeling stressed, try getting some exercise! Many different activities can help to relieve stress. Find one that works for you and make it a part of your stress-relief routine.

Save up to 50% or more on health care!
If you don't want to go the Obamacare route, and also want to save money on your care, check out our Health Care Sharing Ministry that's exempt from the ACA. OneShare Health is an alternative to traditional insurance coverage, we are a Health Care Sharing Ministry that could start saving you thousands per year on your healthcare!
Click below to learn more or get your free OneShare Health quote today.

"Do not neglect to do good and share what you have, for such sacrifices are pleasing to God."
Hebrews 13:16 (ESV)