Who doesn't want to cook easy healthy recipes that are good for you? With such hectic schedules, finding time to cook a heart-healthy meal from scratch is near impossible. These 30 minute meal ideas from Christine McMichael are perfect for when you need a healthy and filling meal, fast!

Save up to 50% or more on your family's health care! Input your ZIP Code below for a free OneShare Health quote!

30-Minute Meal Ideas
BBQ Chicken Power Bowls
Ingredients
▢2 chicken breasts
▢2 Tbsp BBQ sauce
▢1/4 cup rice, dry
▢2 cups kale
▢1 cup shredded red cabbage
▢1 Tbsp tahini
▢1 avocado
Instructions
Preheat oven to 375 degrees.
Cut each chicken breast in half (long-ways).
Please the chicken on an oiled baking sheet and glaze with BBQ sauce.
Bake for 30 minutes (or until fully cooked).
While the chicken is baking, cook the rice according to directions.
Toss the kale, red cabbage, and tahini.
Place into bowls and top with the baked chicken and avocado.
Serve and enjoy!
2.) Taco Bowl Recipe (20 Minutes!)
Ingredients
▢1 lb ground turkey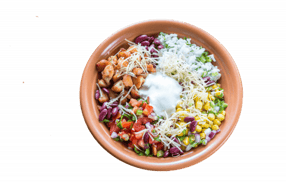 ▢1/2 Tbsp avocado oil
▢1 tsp smoked paprika
▢1/2 tsp cumin
▢1 tsp chili powder
▢1/2 tsp garlic powder (or minced garlic)
▢1/2 tsp salt
▢1/2 tsp pepper
▢2 bags Success® Rice
▢15.5 oz can black beans
▢6 mini peppers (or 1 large bell pepper)
▢8-10 grape tomatoes
▢1-2 cups cilantro leaves
▢1 medium lime
▢1/4 cup plain yogurt (optional)
Instructions
Cook the ground turkey in the oil and spices.
While the ground turkey is being cooked, microwave the rice according to directions.
Lightly heat up the beans in the microwave or on the stove top.
Chop the peppers and the tomatoes.
Combine the rice with the beans, cooked turkey, peppers, tomatoes, and cilantro in each bowl.
Add a squeeze of lime over each bowl.
Mix the yogurt with 1/2 Tbsp of water and a dash of salt.
Drizzle the yogurt over each bowl and enjoy!
3.) Baked Mahi Mahi Tacos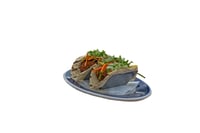 Ingredients

Baked Mahi Mahi

▢1 pound mahi-mahi (2-3 fillets)
▢1 1/2 teaspoon chili powder
▢1 teaspoon ground cumin
▢1 teaspoon smoked paprika
▢1/2 teaspoon onion powder
▢1 teaspoon garlic powder
▢1/2 teaspoon salt
▢1/2 teaspoon pepper
▢1/2 medium lime, juiced
Cream Sauce
▢1/4 cup plain yogurt
▢1/2 teaspoon chili powder
▢1/4 teaspoon smoked paprika
▢1/2 teaspoon salt
▢2 Tablespoons water
▢1/2 medium lime, juiced
Mahi Mahi Tacos
▢8 medium whole wheat tortillas
▢1 cup shredded cabbage
▢1 cup shredded red cabbage
▢1 cup cilantro leaves
▢1 medium avocado, sliced
▢2 teaspoons crushed red pepper (optional)
Instructions

Baking The Mahi Mahi

Preheat the oven to 425 degrees F.
Mix the mahi-mahi seasoning (chili powder, cumin, smoked paprika, onion powder, garlic powder, salt, and pepper) together in a small bowl.
Place the mahi-mahi fillets skin side down on a baking sheet lined with parchment paper.
Squeeze the half-lime juice over each mahi-mahi fillet.
Sprinkle the mixed seasoning over each fillet.
Bake for 17-20 minutes, or until the fillets are flaky and fully cooked.
Remove the fillets from the skin and cut them into small, even pieces.
Mixing The Cream Sauce
While the fish is baking, whisk together the yogurt, chili powder, smoked paprika, salt, water, and the lime juice of the remaining halved lime.
Set aside.
Making Mahi Mahi Tacos
Heat the tortillas up on the stovetop (recommended) or in the microwave.
Top each tortilla with cabbage, red cabbage, baked mahi-mahi, cilantro, sliced avocado, and crushed red pepper (optional).
Drizzle each taco with cream sauce.
Serve and enjoy!
These meals are full of proteins to keep you full and satisfied. These quick dishes will become one of your favorite go-to meals!
These are just a few of the many quick and healthy meal ideas that are out there. With creativity and planning, you can easily whip up a nutritious and delicious meal in no time. So next time you're short on time, don't reach for the takeout menu. Instead, try one of these healthy and easy 30-minute meals. Your family (and your waistline) will thank you!
What are some of your go-to easy meals? Leave us a comment below!

Save up to 50% or more on health care!
If you don't want to go the Obamacare route, and also want to save money on your care, check out our Health Care Sharing Ministry that's exempt from the ACA. OneShare Health is an alternative to traditional insurance coverage, we are a Health Care Sharing Ministry that could start saving you thousands per year on your healthcare!
Click below to learn more or get your free OneShare Health quote today.

John 15:12 (ESV)​
"This is my commandment, that you love one another as I have loved you."