What Exactly is Medical Cost Sharing?
Protecting our loved ones from the unknown is no easy task, especially during these uncertain times. As health care costs continue to rise (and with them, our blood pressure), finding a health care program that's affordable, flexible, and, most importantly, reliable should be at the top of everyone's to-do list.
Maybe you or a loved one has been furloughed, and paying for traditional health insurance is no longer feasible. But did you know that you can still access quality health care by trusted health care providers without going the traditional route? Ever heard of "medical cost sharing"?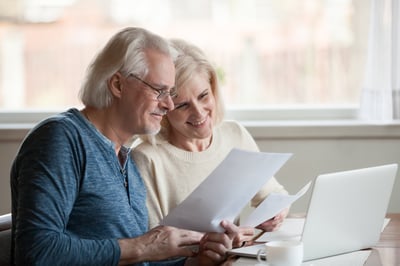 Tired of rising health care costs? Become a Member of our Health Care Sharing Ministry.
Christian healthshare ministries like OneShare Health work diligently to provide our Members with the utmost quality care. Join our Sharing Community and discover a life overflowing with hope, peace, and joy today.

What is medical cost sharing? Is it the same as Christian health insurance? Learn more about Health Care Sharing Ministries like OneShare Health!
What is Cost Sharing in Health Care?
Medical cost sharing is used to describe the collective effort to pay medical bills. When you are a Member of a Health Care Sharing Ministry, your monthly contribution goes into a giant pool to be used on other Members' medical bills and vice versa.
How is a Health Care Sharing Ministry Different from Health Insurance?
The most noticeable difference between health insurance and a Health Care Sharing Ministry, or health share, is the legality. A Health Care Sharing Ministry facilitates the voluntary sharing of medical bills among its Members.
A medical cost sharing plan, like a OneShare health insurance alternative is different from Christian health insurance plans, but what is medical cost sharing? To reiterate, Christian healthshare ministries, like OneShare health insurance alternatives, are a health share that let's you share the cost of your medical bills with other members of cost sharing ministries!
Medical cost sharing isn't the same as Christian health insurance, but it still takes care of you and your family!
What Are the Benefits of a Health Share?
A health share is an affordable alternative to traditional health insurance with access to a broad national network of providers. Basically, it's peace of mind at a fraction of the cost.
Why Should I Become a Member of OneShare Health?
OneShare Health is a medical cost-sharing ministry providing a unique, affordable, ACA-exempt path to health care. OneShare Health's core values come from a strong Scriptural foundation, to carry one another's physical and spiritual burdens through partnerships, prayer, encouragement, and sharing the cost of medical needs.
We don't just see medical bills; we see the people behind them and want to help. Together, we are breaking the mold of conventional health care by creating a community that trusts God, loves sharing, and embraces compassionate care. Get your free OneShare Health quote today!
For more OneShare Health FAQs and information, visit our Knowledge Base!

Start living your best life. Enroll in OneShare Health's Complete Program now.
Our Complete Program provides the highest level of features and is designed for families or individuals wanting access to a comprehensive range of services. Enroll in OneShare Health's Complete Program and begin your path toward a healthier, joyful life alongside our health share family.
"Carry each other's burdens, and in this way you will fulfill the law of Christ."
Galatians 6:2 (NIV)