When looking out for family health, protein is an essential nutrient. It helps build and repair tissues, makes enzymes and hormones, and supports the immune system. While most people think of meat and eggs as the primary sources of protein, several surprising foods are packed with this nutrient. Here are three examples:

Save up to 50% or more on your family's health care! Input your ZIP Code below for a free OneShare Health quote!

Sources of Protein
Quinoa
Quinoa is a grain commonly eaten as a side dish or used in salads, and it is a good source of protein. Quinoa is high in fiber and low in carbohydrates, and it contains all nine essential amino acids. Quinoa is also gluten-free, which makes it a good option for people who are celiac or have gluten sensitivities. Quinoa is easy to cook, and it can be flavored with various herbs and spices. Additionally, quinoa is a good source of iron, magnesium, and potassium. For these reasons, quinoa is an excellent choice for people looking for a healthy source of protein.
Chia seeds
Chia seeds are small, black seeds from the Salvia hispanica plant, which is native to Mexico and Guatemala. The seeds were reportedly a staple of the Aztecs and Mayans, and they have been used in traditional medicine for centuries. Today, chia seeds are enjoying something of a renaissance, as they are increasingly being recognized for their nutritional value. In particular, chia seeds are an excellent source of protein. Just one ounce of chia seeds contains four grams of protein, more than 30% of the daily recommended intake. Furthermore, chia seeds contain all nine essential amino acids, making them a complete protein source. This makes them an ideal food for vegetarians and vegans who may struggle to get protein in their diet.
Edamame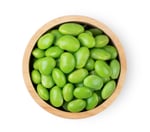 These green soybeans are a good source of plant-based protein. They're also high in fiber and vitamins A, C, and K. Each serving of edamame has about 8 grams of protein. Most of the fat in edamame is unsaturated, which is the "good" kind of fat. Edamame also contains fiber, vitamins, and minerals. It is low in calories and sodium. Edamame can be eaten as a snack or used in recipes. It can be steamed, boiled, or stir-fried. You can find it fresh, frozen, or canned. You can also find it shelled or still in the pod. Choose edamame that is plump and dark green, and avoid edamame that is yellow or brown.
So, next time you're looking for a protein-packed meal to improve your family's health, don't forget about these surprising sources. Quinoa, chia seeds, and edamame can all help you meet your family's nutritional needs. Which one of these is your favorite? Leave a comment!

Save up to 50% or more on health care!
If you don't want to go the Obamacare route, and also want to save money on your care, check out our Health Care Sharing Ministry that's exempt from the ACA. OneShare Health is an alternative to traditional insurance coverage, we are a Health Care Sharing Ministry that could start saving you thousands per year on your healthcare!
Click below to learn more or get your free OneShare Health quote today.

"Do nothing out of selfish ambition or vain conceit. Rather, in humility value others above yourselves, not looking to your own interests but each of you to the interests of the others."
Philippians 2:3-4 (NIV)