It is that time of year again when we get our kids ready to head back to school. New clothes, fresh haircuts, and school supplies are at the top of the list of preparations. However, in this season of uncertainties we find ourselves in, our minds can be overwhelmed by safety concerns and fear around COVID-19 transmission.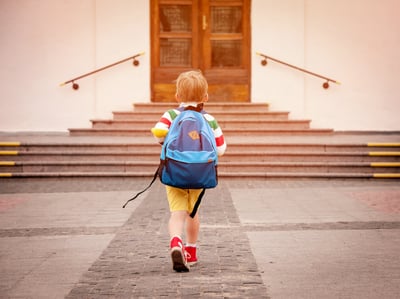 What is a health sharing ministry? And is health cost sharing a good fit for your family?
OneShare Health is a community dedicated to compassionate care by means of sharing in one another's eligible health care expenses. Our three Membership Programs are designed to fit every need and budget. Join our Family right now!
To say these past few months have been a little stressful is an understatement, but we serve a great and powerful God. A God that tells us He will never leave us. Deuteronomy 31:6 (ESV): "Be strong and courageous. Do not fear or be in dread of them, for it is the Lord your God who goes with you. He will not leave you or forsake you." This is such a great promise, but it can be hard to feel His presence during times of great trial. If God is with us, why are these troubling things happening?
We are not promised a problem-free life. In fact, Jesus said we would have trouble. John 16:33 (NKJV): "These things I have spoken to you, that in Me you may have peace. In the world you will have tribulation; but be of good cheer, I have overcome the world."
We often do not receive what we do not understand, especially when we are struggling. It is hard for us to understand the ways of God, and He addresses this in the book of Proverbs: "Trust in the Lord with all your heart, and do not lean on your own understanding. In all your ways acknowledge him, and he will make straight your paths." (Proverbs 3:5-6 ESV)
God is asking us to trust Him, not our own knowledge or wisdom. As His children, we simply need to acknowledge Him, seek His presence, and HE will guide us and make a way for us. Trust God with all of your heart, my friends, and He will be faithful to you according to His word.
Are you anxious about the new school year and what going back to school could mean for your loved ones? Send a prayer request to our Ministry Team, and we'll help you through these uncertain times. And don't forget to check out Jeremy's thoughts on Fatherhood and Freedom as part of OneShare's "OurStories" series!

Become a Member of OneShare Health's Catastrophic Program today!
Health sharing ministries like OneShare offer inclusivity and visibility unlike any other. Take our Catastrophic Membership Program1, for instance, which is ideal for individuals and families who are in a good position to bless others!
Looking for access to 24/7 Clever HealthTM Smart Virtual Care (Telemedicine) for a 100% Shared Consult Fee? What about Diagnostics, X-Rays, and Lab work? As a Christian Health Care Sharing Ministry, we are 100% committed to providing you and your loved ones with total, quality care. Get your free OneShare Health quote or click to become a Member today!
"But seek first his kingdom and his righteousness, and all these things will be given to you as well."
Matthew 6:33 (NIV)

1Eligible sharing services vary by Program, and certain limitations, Waiting Periods, and Pre-Existing Conditions limitations apply.