What does it mean to be a 'free' Christian? This week, our Chaplain tells all!
We just celebrated the independence of our great nation and also the freedom which comes along with it. Freedom is a cornerstone of our country and what has set us apart from the rest of the world. We take our liberties very seriously as Americans, but when scripture talks about our freedom, what is it telling us?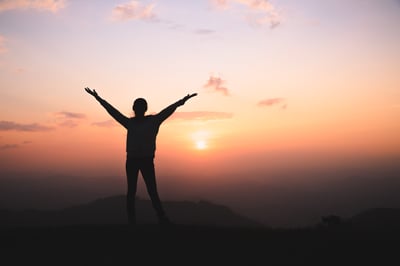 What's so great about Christian healthshare ministries? Find out when you join OneShare Health!
OneShare Health's Health Care Sharing Ministry is made up of loving and supportive Members who want to help their brothers and sisters in Christ live healthy, joyful lives. Enroll today to get the health care support you and your family deserve.

"Now the Lord is the Spirit, and where the Spirit of the Lord is, there is freedom." 2 Corinthians 3:17 (ESV)
God's presence in our lives through Jesus is what sets us free. Jesus made a way for us to live free from sin and shame that could never have been done through our own good works.
"Therefore, my friends, I want you to know that through Jesus the forgiveness of sins is proclaimed to you. 39 Through him everyone who believes is set free from every sin, a justification you were not able to obtain under the law of Moses." Acts 13:38-39 (NKJV)
We do have liberty through Jesus, but we often think of it as an absence of something in our lives (alcohol, drugs, prison…). Perhaps, though, we should see it as the freedom to be who God created and redeemed us to be. We have been set free to walk in the righteousness of Christ Jesus and to live empowered by the Holy Spirit.
"Therefore, there is now no condemnation for those who are in Christ Jesus, 2 because through Christ Jesus the law of the Spirit who gives life has set you free from the law of sin and death. 3 For what the law was powerless to do because it was weakened by the flesh, God did by sending his own Son in the likeness of sinful flesh to be a sin offering. And so he condemned sin in the flesh, 4 in order that the righteous requirement of the law might be fully met in us, who do not live according to the flesh but according to the Spirit." Romans 8:1-4 (NKJV)
It is important to also know the proper use of our freedom Found through Christ. We are to use it to serve and bless others, not for our own pleasures.
"For you were called to freedom, brothers. Only do not use your freedom as an opportunity for the flesh, but through love serve one another." Galatians 5:13 (ESV)
God is calling us to serve and love with this amazing gift of freedom. We are to use our freedom to become who God created us to be and, in turn, love others the way God loves them and to bring them into His Kingdom.
Visit OneShare Health's Devotionals YouTube channel each month to listen in as Jeremy delves into the topics that matter most to us. We guarantee you'll love what he has to say about being a Christian parent. And remember to submit a Prayer Request to our Ministry Team!

Become a Member of OneShare's Health Classic Medical Cost-Sharing Program today!
Looking for a faith-based healthshare to assist you and your loved ones with the rising cost of health care? Our Classic Medical Cost-Sharing Program could be the perfect fit for your health and your budget. This medical sharing program is the most popular among our Members, equipped with a wide range of services designed to enhance wellness while sharing your essential needs through preventive health care, reduction of hospitalization, and more. So, what are you waiting for? Our top-of-the-line health sharing ministries are here to serve you whenever and wherever you need us most*.
*Certain limitations and exclusions apply such as Pre-Existing Conditions. Please refer to your Member Guidelines for full details and Sharing Eligibility.
"'For I know the plans I have for you' declares the Lord, 'plans to prosper you and not harm you, plans to give you hope and a future.'"
Jeremiah 29:11 (NIV)

ONESHARE HEALTH, LLC (ONESHARE) IS NOT AN INSURANCE COMPANY BUT A RELIGIOUS HEALTH CARE SHARING MINISTRY (HCSM) THAT FACILITATES THE SHARING OF MEDICAL EXPENSES AMONG MEMBERS. As with all HCSMs under 26 USC § 5000A(d)(2)(B)(ii), OneShare's members are exempt from the ACA individual mandate. OneShare does not assume any legal risk or obligation for payment of member medical expenses. Neither OneShare nor its members guarantee or promise that medical bills will be paid or shared by the membership. Available nationwide, but please check https://www.onesharehealth.com/legal-notices for the most up to date state availability listing.
Enrollment in OneShare is not a contract for insurance. Participation in OneShare is voluntary. Enrollment as a OneShare member is voluntary, and the sharing of monetary contributions is voluntary. You are free to cancel your membership at any time. OneShare requests that a voluntary sharing contribution be made for each month you are enrolled, to facilitate the sharing of requests published on behalf of other members.