OneShare Health's Victoria Damone & ARK Invest's Catherine Wood share how they've overcome uncertainty to give back to the world.
Victoria Damone is the Executive Vice President of Strategic Partnerships at OneShare Health, a Christian Health Care Sharing Ministry founded in 2018. Meanwhile, Catherine "Cathie" Wood is the Chief Executive Officer and Chief Investment Officer of ARK Invest, an investment firm she founded in 2014. Both women have persevered through periods of misfortune, and they both attribute their success to the goodness of God, acknowledging the pivotal role that Sarah Young's acclaimed Christian devotional Jesus Calling has played in their day-to-day lives.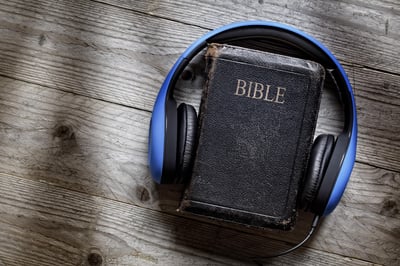 In the most recent Jesus Calling Podcast, Damone, the eldest daughter of legendary 1950s crooner Vic Damone and actress and Disney cartoonist Judy Rawlins, explains that she and her two younger sisters experienced a tumultuous childhood due to the demanding lifestyles of their celebrity parents. Years later, after moving from Hollywood to Texas, Damone has made a professional career out of administering a credible and faith-based path to health care for those in need.
Wood, a mother of three and fearless leader of an investment firm that focuses solely on offering investment solutions to capture disruptive innovation in the public equity markets, discusses how her faith continued to strengthen even when she was met with overwhelming challenges, including starting her career, moving to New York, experiencing various crashes in the stock market, and dealing with divorce. Never once did she feel that God had left or deserted her in these moments: "I felt like I had to hold on a little tighter."
To find out how Damone and Wood find peace in their daily lives, listen to Surviving and Thriving to Help God's Children: Victoria Damone & Catherine Wood, here!

What is a health sharing ministry?
Christian Health Care Sharing refers to a more affordable option to traditional health care where Members belong to a Sharing Community that engages in health cost sharing. Health sharing ministries like OneShare Health are on a Mission to inspire healthier, joyful communities on the path of life using Scriptural principles to connect all of our brothers and sisters in Christ. Join our Sharing Family today.
"Therefore encourage one another and build one another up, just as you are doing."
1 Thessalonians 5:11 (ESV) 

ONESHARE HEALTH, LLC (ONESHARE) IS NOT AN INSURANCE COMPANY BUT A RELIGIOUS HEALTH CARE SHARING MINISTRY (HCSM) THAT FACILITATES THE SHARING OF MEDICAL EXPENSES AMONG MEMBERS. As with all HCSMs under 26 USC § 5000A(d)(2)(B)(ii), OneShare's members are exempt from the ACA individual mandate. OneShare does not assume any legal risk or obligation for payment of member medical expenses. Neither OneShare nor its members guarantee or promise that medical bills will be paid or shared by the membership. Available nationwide, but please check www.onesharehealth.com/legal-notices for the most up to date state availability listing. 
Enrollment in OneShare is not a contract for insurance. Participation in OneShare is voluntary. Enrollment as a OneShare member is voluntary, and the sharing of monetary contributions is voluntary. You are free to cancel your membership at any time. OneShare requests that a voluntary sharing contribution be made for each month you are enrolled, to facilitate the sharing of requests published on behalf of other members.