Former Contestant of The Voice Joins Forces with CEO of Christian Health Share to Bring Compassion, Healing, and Brotherly Love Back Into Health Care
IRVING, Texas, October 15, 2020 – OneShare Health, an ACA-exempt, Christian Health Care Sharing Ministry (HCSM) based in Texas, will be collaborating with Christian Latin Pop singer-songwriter Johnny Rez to bring more awareness to Christian HCSMs and the importance of faith, community, and lifting each other up in times up need.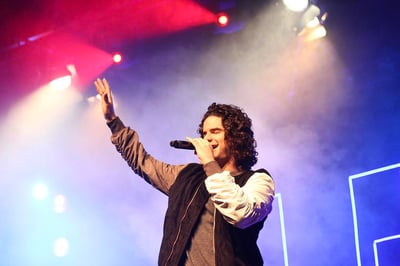 Rez—who's been featured on TV programs and networks including ABC, Telemundo, the American Music Awards (AMAs), American Idol, and Season 11 of NBC's The Voice—said he's excited by the prospect of partnering with OneShare Health, a company he deems has the "best interest of its Members in mind and does not faulter when it comes to serving God and serving people."
"In this world, it's so easy to get caught up with one's own needs," Rez said, "but OneShare Health does an excellent job of keeping the ministry focused on giving back and caring for all."
A native of Miami, Florida, and lifelong Christian, Rez's professional music career began in 2015 when he released his first single, "All This Time" (also titled "Siempre En Ti"). Since then, his reach has become international in scope. Themes of Rez's music include worship and "seeking God's presence," which aligns with CEO of OneShare Health Buddy Combs' Mission and Vision.
"Johnny is not only an incredible musician," said Combs, "he's also an exemplary disciple of God and proof that His plan for each of us supersedes all. As a Christian health share leader, faith and worship are part of my daily routine, just as they are part of Johnny's. We see God in everything we do; He is the force behind our successes, the Presence we turn to when the valleys get too steep. With God as our Ally, I know Johnny and I will be able to make extraordinary things happen, including, first and foremost, bringing compassion back into health care."
While the concept of Christian health sharing can be traced back nearly four decades ago, faith-based health care is still a relatively new concept in the United States and abroad. Rez, however, said he views it as "a powerful and ideal solution," and that without faith and compassion in health care, the industry would be nothing more than a business.
"There is nothing more rewarding than being a part of something that you know will also reap an eternal reward," said Rez. "I can't see a better place to be than in a community of people who love God, step out in faith to help each other, and take care of their families, all at once."
Regarding OneShare's position in the health care industry, Rez said he believes there is "much more to come" with a "great leader and pioneer" like Combs leading the charge.
"His fearlessness and passion to help people and provide affordable health care to those in need, is what started OneShare Health," said Rez. "He is a man after God's own heart, and his humility and kind spirit are what have enabled him to be used by God in such a time as this. I have faith that, together, we can increase the reach of OneShare Health, exemplify the story of the gospel and God's love for us, and aid those in need around the world."
Anyone who is interested in learning more about Johnny Rez and how he and OneShare Health are making a difference, is invited to follow them on social media, visit OneShare's Mission in Motion page, or subscribe to the nonprofit's Christian health blog.
About OneShare Health:
OneShare Health is an ACA-exempt, non-profit, Christian Health Care Sharing Ministry (HCSM). HCSMs are not traditional health insurance and do not accept risk or make guarantees regarding payment of bills submitted by Members.

Help us change the future of health care! Join our Christian health care cost-sharing ministry today!
What is a health sharing ministry? Health sharing ministries like OneShare are committed to making a difference in the lives of our Members by providing a faith-based alternative to health care. Compassion and flexibility are just some of the qualities that set our Sharing Community apart from other Christian health ministries.
Enroll in a OneShare Health Membership today and take part in a Community that genuinely values the health and wellness of all!
"For we are his workmanship, created in Christ Jesus for good works, which God prepared beforehand, that we should walk in them."
Ephesians 2:10 (ESV)

ONESHARE HEALTH, LLC (ONESHARE) IS NOT AN INSURANCE COMPANY BUT A RELIGIOUS HEALTH CARE SHARING MINISTRY (HCSM) THAT FACILITATES THE SHARING OF MEDICAL EXPENSES AMONG MEMBERS. As with all HCSMs under 26 USC § 5000A(d)(2)(B)(ii), OneShare's members are exempt from the ACA individual mandate. OneShare does not assume any legal risk or obligation for payment of member medical expenses. Neither OneShare nor its members guarantee or promise that medical bills will be paid or shared by the membership. Available nationwide, but please check www.onesharehealth.com/legal-notices for the most up to date state availability listing.
Enrollment in OneShare is not a contract for insurance. Participation in OneShare is voluntary. Enrollment as a OneShare member is voluntary, and the sharing of monetary contributions is voluntary. You are free to cancel your membership at any time. OneShare requests that a voluntary sharing contribution be made for each month you are enrolled, to facilitate the sharing of requests published on behalf of other members.