Johnny explores the true meaning of Christmas while sharing his favorite Christmas traditions.
Cooler weather, opening gifts with loved ones, and getting to celebrate the King of all kings—it goes without saying that Christmas has always been my favorite season. It's also an important holiday for the Latin culture and Hispanics as a whole. We are a very loving, family-orientated people, and Christmas is about being surrounded by the people you love most to celebrate the Man who loves us most (so, in a way, I guess I was always destined to love Christmas!).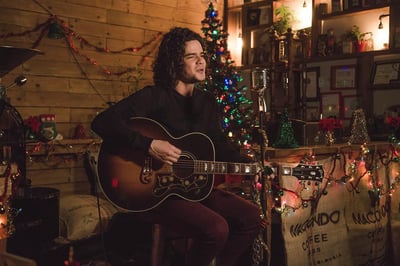 During Christmas, we're reminded of the importance of community. 'Community,' as God teaches us, is principal to the life of the believer because He never intended us to do life on our own. Most Latinos like to take this idea a step further at Christmastime gatherings. Surrounded by loved ones around the Christmas tree (maybe even a fire if Miami weather allows), we open gifts together, we laugh together, and we reminisce on our blessings together.
"All the believers were one in heart and mind. No one claimed that any of their possessions was their own, but they shared everything they had." Acts 4:32 (NIV)
Community is never more present than during those moments when we all come together in celebration and worship. We must seek community in everything we do because it is only when we are acting in fellowship that we can fulfill God's plan.
As for traditions, my Cuban-American family celebrates this holiday the way many Americans do, but we also weave a few of our own customs into the mix. Yes, there are presents, but we open them on Christmas Eve instead of on Christmas Day. (One Christmas Eve, my father even brought home a Teacup Yorkie. We named him "Pastelito" after the Cuban pastry.)
As Cubans, it's also custom for our family to have "carne de Puerco," or pork, for Noche Buena (Christmas Eve). If we were living in Cuba, we might even celebrate "Los Tres Reyes Magos," or "The Three Wise Mae," which are the three Magis who traveled to greet Jesus with gifts when He was born.
Of course, as important as the spirit of 'giving' is during the Christmas season, it's also equally important that we give back. We have to understand that, no matter our level of wealth, we are blessed. True happiness doesn't come from our possessions, but from that which Jesus gave to us, and we are also most joyful when we give to others in generosity.
The Bible tells us when we give to the poor, we are lending to the Lord Himself, and He is always faithful to reward us accordingly:
"Each of you should give what you have decided in your heart to give, not reluctantly or under compulsion, for God loves a cheerful giver." 2 Corinthians 9:7 (NIV)
Of course, being on the receiving end of a Christmas gift is part of what makes this holiday such a joyful one (who wouldn't want a puppy on Christmas?!) But, ultimately, they should serve as a reminder of something even more worthwhile, something even more valuable than a new watch, PlayStation, or gift card to our favorite clothing store. They should remind us of God's gift of eternal life in His Kingdom.
So, with Christmas just around the corner, I'd ask all of my brothers and sisters in Christ to keep its true meaning in mind while you and your loved ones go about celebrating the day. Remember to cherish not only the presents you're opening, but the people you're opening them with; give thanks for your possessions, but keep the Promised Land in sight; and always, always, always remember to share your blessings and practice hospitality with those who need it most.
Peace be with you all,
Johnny

Access affordable health care and a devoted Sharing Community with a OneShare Health Membership!
Christian health ministries have been a blessing to many families. What is a health sharing ministry? Health sharing ministries are not insurance but offer many feature-rich Programs that help pay for the costs of Eligible medical expenses. At OneShare Health, we facilitate Christian health care cost-sharing for and through Members who agree to our Statement of Beliefs relating to life, health, and caring for others. With year-round enrollment and next-day Effective Dates (excluding the 28th—31st of the month), you and your loved ones could easily join our Sharing Community! Get started today.

"Do not neglect to do good and to share what you have, for such sacrifices are pleasing to God."
Hebrews 13:16 (ESV)