Hardship and stress are a necessary—albeit painful—part of life. If we don't have the means to control it, then things like depression, exhaustion, and anxiety can threaten to alter our lives. The emotional wellbeing of our Members is of the utmost importance to OneShare Health and our partners at IBH Population Solutions, which is why our Members now have all the information and tools they need to be the best—less stressed—versions of themselves!
Let us journey with you as you work towards achieving optimal emotional health! Through the Member Assistance Program (MAP) YOU Portal, you'll have access to personalized, curated tools and resources designed to inform and empower you to deal with various stressors. Improve emotional wellbeing and become your own best friend again through valuable health assessments to evaluate self-perceived levels of depression, body image, anxiety, nutrition, sleep habits, and more.

Online counseling to improve emotional wellbeing is a good way how to improve emotional health.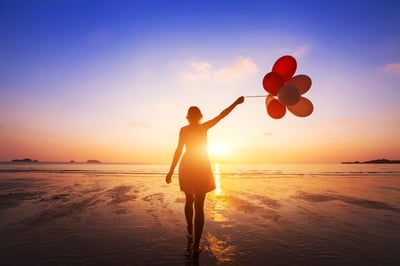 Learn More About Online Counseling and other Free Resources for OneShare Health Members!
We want to provide our Members with the ultimate resources for mental health, free online counseling, crisis support, and more mental wellbeing tools. You already know we don't "do" health care like traditional health insurance, so let's get YOU the most out of your health care sharing Program!
If you're a OneShare Member who hasn't made their account with YOU.OneShare, you're missing out! Click below to learn more about YOU.OneShare and the many resources it offers to improve your emotional wellbeing!

Get free counseling insurance and free therapy insurance for a free mental health plan.

The Tools YOU Need to Help Improve Emotional Wellbeing
Balance is key in all areas of life especially when it comes to getting necessary sleep, staying ahead of stress, learning basic health and nutrition practices, and growing as the person you want to become. With OneShare Health's MAP behavioral health feature – the YOU at OneShare portal – you can access to incredible resources that evaluate, address, and maintain a healthy lifestyle to stay on top of your personal goals. All at no additional cost to your Membership! Just create your YOU.oneshare account and you can access all the resources within your personalized portal free of charge!
From online counseling, to self-checks, personal health goals, educational information, health care discounts, and everything in between, the resources available to help coach your emotional wellbeing is at your fingertips. The great part? Only you can have control over what goals you set and how you achieve them. Keep that honesty and firmness in all aspects of your journey and you can get back on track to mental wellbeing in no time!
What kinds of tools can you gain to help improve your emotional health? No matter whether you want to Thrive, Matter, or Succeed, there's a wealth of information at your disposal so you can become the best version of yourself in mind, body, and soul. Let's take a look.
Small Bites for YOU: Assess Nutritional Wellbeing
When it comes to nutrition, it's key to find a great balance between being healthy and not beating yourself up if you indulge every once in awhile. Take the nutritional assessment and check out some personalized tips and resources to maintain a healthy lifestyle and stay on top of your personal goals.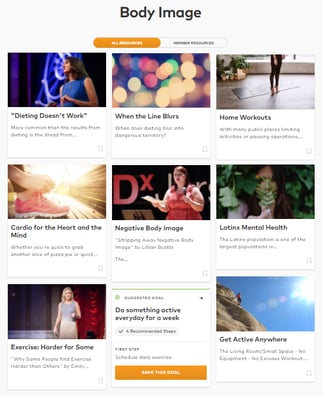 Your Friend in the Mirror: Addressing Body Image and YOU
It's natural to be concerned about our weight and bodies from time to time, there is a lot of pressure out there to be or look a certain way. To help improve your emotional health, get back on track, and help you be a little nicer to your friend in the mirror again, you can access resources regarding diet and body image to try to channel your inner confidence; it's in there!
Ready? Set? YOU Need to Get Your Emotions and Physical Body into Shape
To have a practical regimen for your mental health, you can't forget to spend some time getting your physical health into shape. Take the wellbeing assessment, and set some goals to keep you moving forward so you can enjoy the overall benefits of mind and body fitness. They might be baby steps, but, regardless, they are steps toward keeping your relationships strong, your confidence high, and your day-to-day obligations in check.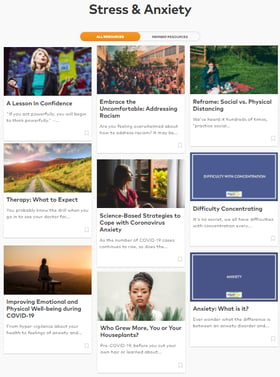 Don't Tap Out When YOU Put Your Stress to the Test
We all have stressors from time to time, but to improve emotional health, it's important to not be derailed during life's ups and downs. The YOU.OneShare Portal has resources to help you make conscious adjustments to your schedule and lifestyle to ensure stress doesn't throw your balance off kilter.
YOU Don't Have to Worry Yourself Sick
A small amount of anxiety is normal for many. It can be a sign that you care about how you connect with others meaningfully, that you are passionate about your responsibilities, and that you value your success. If you want some guidance to use that anxiety to your advantage, take the anxiety assessment for a reality check and some of the YOU.OneShare content and resources recommended for you. You'll be surprised how much more confident and in control you can feel after a few simple steps!
Depression Can Be a Lonely Place, YOU Aren't Alone
No matter whether you feel like you have everything figured out, or that you've fallen and you can't get back up, there's always room for growth. Getting a good handle on your relationships, self-esteem, and lifestyle, is a good starting point, but occasionally these areas can bog you down. With curated resources via the YOU.OneShare Portal, you can learn tips to improve emotional health by being mindful of external factors that may lead you to that lonely place inside.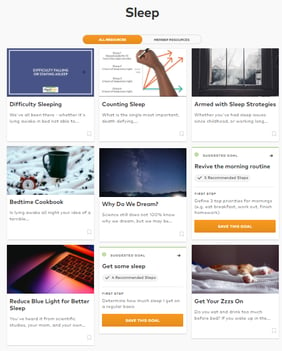 YOU Are Exhausted. It's Time to Catch Some Zzzzs
Unhealthy sleep habits can likely be the result of your lack of exposure to physical activity, unhealthy eating habits, or just not being able to wind down properly. Did you know that setting up a great bedtime regimen to improve your emotional wellbeing can be conducive to sleeping through the night? Take the sleep and mental health assessment available at YOU.OneShare and brush-up with some resources. Then, get ready to dream on, dreamer!
Consider these just a small preview of everything you can explore, learn, aspire, and achieve within the free YOU.OneShare.com Portal. OneShare Health Members have 24/7 access to crisis and online counseling, ways to improve your mental wellbeing, personal goal setting, health assessments, and so much more. Don't forget to create your free OneShare Health YOU account today and enjoy all the emotional health benefits that come with your Membership!

Not a OneShare Member? Let's Get on That. YOU Can Get These Free Resources, Too!
Not a OneShare Member but want in on all these great mental health and wellness Features free of charge? Learn more about health care sharing and how we're helping our Members pay for health care in a way that's different from traditional health insurance. We'd love to help you save up to 50% or more on your health care. Become a part of the Family today!

"Be kindly affectionate to one another with brotherly love, in honor giving preference to one another."
Romans 12:10 (NKJV)

The Behavioral Health/Member Assistance Program is not owned or operated by OneShare Health and is not a sharing service, but is made available to Members by Integrated Behavioral Health (IBH).