Smart Virtual Care (Telemedicine) services allow OneShare Health Members to consult a physician 24/7, for a Consult Fee that's 100% Shared.
Access to Smart Virtual Care (Telemedicine) is a key part of every Membership Program of OneShare's Health Care Sharing Ministry.

Interested in joining OneShare's Christian health share ministry?
At OneShare Health, we work hard to provide our Members with a reliable path to health care. Join our Health Care Sharing Ministry and start living your best life alongside other members of our Faith Community today.
As much as we don't like to admit it, COVID-19 has changed the way we provide and receive services, and that includes services related to your health care. Fortunately, we have a solution: OneShare Health Telemedicine Services called Smart Virtual Care, brought to you by Clever Health™!
How Does Smart Virtual Care (Telemedicine) Work?
Initially, Telemedicine was created to treat patients who lived in areas with a shortage of medical care professionals, as well as for those who lived too far from local health facilities. Today, Telemedicine is still used in these instances, but it's steadily becoming a tool for convenient medical care—and convenient access to such medical care has become an absolute necessity these days.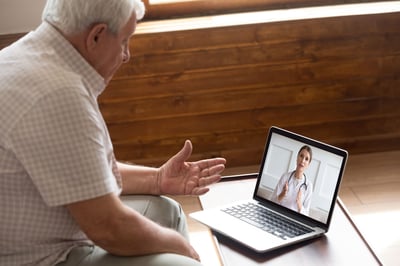 With Smart Virtual Care (Telemedicine), you spend less time in waiting rooms and more time receiving immediate attention for minor but urgent conditions.
However, it is important to note that Smart Virtual Care (Telemedicine) is intended to treat non-emergency conditions. If you suspect your situation is Life-Threatening or Life-Altering, you should call 911, immediately. OneShare Health defines a Life-Threatening or Life-Altering situation as:
A condition which, if not immediately in receipt of medical treatment, has a high likelihood of causing death or causing major irreversible bodily harm (including, for example, loss of arm, leg, hand or foot; loss of sight or hearing; paralysis, or loss of brain function). The following are key signs and symptoms of Life-Threatening Emergencies: respiratory distress or cessation of breathing; severe chest pains; shock; uncontrolled bleeding; choking; poisoning; prolonged unconsciousness; severe burns; any complaint or observation which indicates head or spinal cord injury. The following are examples of Life-Altering Emergencies: broken bones; visible bones; or dismemberment.
Additionally, based on treatment protocols, doctors may not prescribe an antibiotic for viral illnesses such as most colds, sore throats, coughs, sinus infections, and the flu. Clever HealthTM Virtual Care (Telemedicine) physicians may even suggest alternative treatment options such as a prescription for symptom relief or over-the-counter medication.
With Clever HealthTM Smart Virtual Care (Telemedicine), the doctor is always in, offering convenient relief for your body and peace of mind. Clever HealthTM makes Smart Virtual Care better, faster, and easier. At your fingertips, Clever HealthTM can more efficiently and accurately take care of non-emergent health care needs. Via an AI-driven smart questionnaire you and your family have access 24 hours a day, 7 days a week, 365 days a year to state-licensed and fully credentialed providers in the most convenient and efficient way.
However, Clever HealthTM consults via chat, phone, or video are also available to you and your family via the app. Using intelligent intake, local providers, and population health intelligence, Clever HealthTM reduces errors and can provide proper follow-up and ongoing care at local facilities.
For more OneShare Health FAQs and information, visit our Knowledge Base!
Have you had a positive experience with Telemedicine recently? We'd love to hear all about it in a comment!

OneShare Health's Catastrophic Program is our most affordable medical cost-sharing Program. Ideal for individuals who are in good health and in a good position to bless others, this health share Program offers Sharing Services for Specialists Visits, Hospitalization, Diagnostic and Labs, and more. You deserve to have access to compassionate care whenever and wherever you need it. Join our Sharing Community now.

"Carry each other's burdens, and this way you will fulfill the law of Christ."
Galatians 6:2 (NIV)

1Smart Virtual Care (Telemedicine) is not owned or operated by OneShare Health, LLC but made available to OneShare Members by Clever Health™.