As part of the OneShare Health Family, we want to provide you with all the resources you need to make the best choices for your health. Have a cold? Want to know if that scrape needs stitches? As a OneShare Member, you have 24/7 access to Telemedicine, and the Consult Fee is 100% Shared!
All About Telemedicine
Did you know that Telemedicine can be your first line of defense for any acute health needs* you or your loved ones might experience?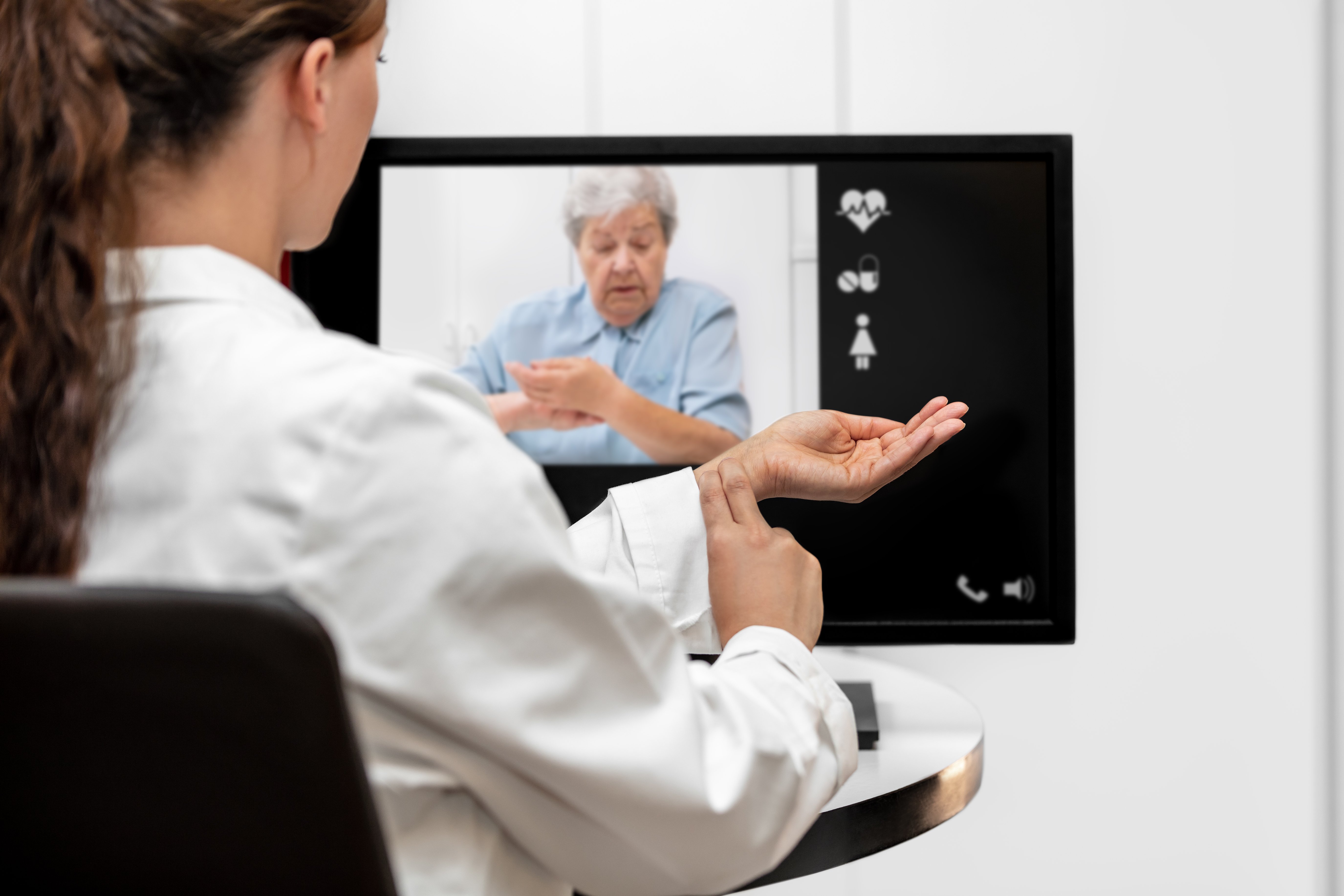 *Telemedicine is not intended for emergency care.
What is Telemedicine?
Telemedicine is a tool provided by DialCare for convenient medical care. By using Telemedicine, health care offices can interact with more patients, 24 hours a day, 7 days a week!
How does Telemedicine work, exactly? Telemedicine services are a key part of* every Membership Program of OneShare's Health Care Sharing Ministry. Access to a smartphone, tablet, laptop, or desktop, plus a reliable internet connection, is all you need to be face to face (or phone to phone) with a physician in no time!
* Telemedicine is not owned or operated by OneShare Health, LLC. 24/7 Telemedicine is made available to OneShare Members by DialCare for a 100% Shared Consult Fee.
What Can I Use Telemedicine For?
Remember a time when you were not feeling well? Had the flu? Had a sore throat? To make things worse, sometimes it happens in the middle of the night, out of town, or at work. What do you do?
Telemedicine by DialCare is available to OneShare Health Members, and the Consult Fee is 100% Shared!
DialCare Telemedicine Services are most commonly used most for ailments such as:
Allergies
Asthma
Cold & Flu
Digestive conditions
Ear infection
Fever
Gout
Insect bites
Joint, aches, & pains
Rashes
Sinus infections
Skin inflammation
Urinary tract infections
And more!
Keep in mind, Telemedicine Services are intended to treat non-emergency conditions. If you suspect your situation is Life-Threatening or Life-Altering*, you should call 911, immediately.
* OneShare Health defines 'Life-Threatening or Life-Altering' as a condition which, if not immediately in receipt of medical treatment, has a high likelihood of causing death or causing major irreversible bodily harm (including, for example, loss of arm, leg, hand or foot; loss of sight or hearing; paralysis, or loss of brain function). The following are key signs and symptoms of Life-Threatening emergencies: respiratory distress or cessation of breathing; severe chest pains; shock; uncontrolled bleeding; choking; poisoning; prolonged unconsciousness; severe burns; any complaint or observation which indicates head or spinal cord injury. The following are examples of Life-Altering emergencies: broken bones; visible bones; or dismemberment.
Should I Use Telemedicine?
In the modern age, the advantages of Telemedicine are undeniable. Those who've used it can attest that it will save you time and money when it comes to your non-emergency health care needs.
As part of your OneShare Health Membership, Telemedicine is far more affordable than an in-person appointment, and you can also avoid the inconvenience of missing work and traveling to a medical office! Plus, if your doctor writes you a prescription* during your consult, you can save even more when you use your OneShare Health Prescription Discount Card!
*Based on treatment protocols, doctors may not prescribe an antibiotic for viral illnesses such as most colds, sore throats, coughs, sinus infections, and the flu. Telemedicine physicians may even suggest alternative treatment options such as a prescription for symptom relief or over-the-counter medication.
How Do I Get Started?
Here's how to do Telemedicine: After you download the DialCare App and register your information*, you can begin your first Telemedicine consult by calling either (833) 387-9603, or (855) 847-3627 if you're a Massachusetts resident.
At the start of your consult, your medical situation will be assessed, or 'triaged,' by a health care professional. Afterwards, the doctor will call you back via phone or video chat for a discussion. (Be sure to turn off your spam filter and RoboKiller, or the doctor's call may go straight to voicemail!)
*Each Dependent on your Program needs to register with their own email if they are over the age of 18; the Primary Member (ie. Parent) cannot take calls for Dependents aged 18 years or older.
Still have questions about Telemedicine? Feel free to reach out to our Member Support Team by phone at (833) 546-4478, Monday through Friday, 8am to 5pm CST. We'll answer any questions you may have! You can also visit our OneShare Health Blog or check out the OneShare Health Knowledge Base!

Become a Member of our Anabaptist health share, and help us spread compassionate care.
Jesus taught his disciples to not "withhold good from those to whom it is due, when it in your power to act," and health sharing ministries like OneShare continue to uphold this commandment. Through our Membership Programs, we aim to address a great need across the United States: access to affordable health care. Read more about how Christian health ministries are giving back to the community by checking out OneShare Health reviews online. We can't wait to have you join our Family.

"And my God will supply every need of yours according to his riches in glory in Christ Jesus."
Philippians 4:19 (ESV)

ONESHARE HEALTH, LLC (ONESHARE) IS NOT AN INSURANCE COMPANY BUT A RELIGIOUS HEALTH CARE SHARING MINISTRY (HCSM) THAT FACILITATES THE SHARING OF MEDICAL EXPENSES AMONG MEMBERS. As with all HCSMs under 26 USC § 5000A(d)(2)(B)(ii), OneShare's members are exempt from the ACA individual mandate. OneShare does not assume any legal risk or obligation for payment of member medical expenses. Neither OneShare nor its members guarantee or promise that medical bills will be paid or shared by the membership. Available nationwide, but please check www.onesharehealth.com/legal-notices for the most up to date state availability listing.
Enrollment in OneShare is not a contract for insurance. Participation in OneShare is voluntary. Enrollment as a OneShare member is voluntary, and the sharing of monetary contributions is voluntary. You are free to cancel your membership at any time. OneShare requests that a voluntary sharing contribution be made for each month you are enrolled, to facilitate the sharing of requests published on behalf of other members.
Telemedicine is not owned or operated by OneShare Health, LLC. 24/7 Telemedicine is made available to OneShare Members by DialCare for a 100% Shared Consult Fee.