As part of the OneShare Health Family, we want to provide you with all the resources you need to make the best choices for your health. Have a cold? Want to know if that scrape needs stitches? As a OneShare Member, you have 24/7 access to Clever HealthTM Smart Virtual Care (Telemedicine), and the Consult Fee is 100% Shared so it's no cost to you!
All About Clever HealthTM Smart Virtual Care (Telemedicine)
Did you know that Smart Virtual Care (Telemedicine) can be your first line of defense for any acute health needs* you or your loved ones might experience?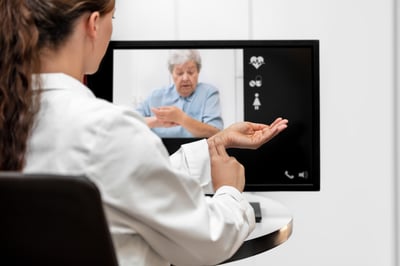 *Smart Virtual Care (Telemedicine) is not intended for emergency care.
What is Telemedicine?
Smart Virtual Care, also called Telemedicine, is a tool provided by Clever HealthTM for convenient medical care. By using Smart Virtual Care (Telemedicine) Services, Members can address their minor, non-emergency health care needs, 24 hours a day, 7 days a week!
How does Telemedicine work, exactly?
Smart Virtual Care through Clever HealthTM (Telemedicine) Services are a key part of1 every Membership Program of OneShare's Health Care Sharing Ministry. Access to a smartphone or tablet, (sorry, no laptops or desktops) plus a reliable internet connection is all you need to be face to face (or phone to phone) with a physician in no time!
Smart Virtual Care uses AI and population health data to streamline and optimize your virtual visit. Through the Clever HealthTM App, you'll experience greater convenience, faster visit times, more accurate diagnoses, additional Prescription Discounts, and 24/7 access to mental health chat resources.
What is Smart Virtual Care?
Easier–Via an asynchronous smart questionnaire (a series of intuitively prompted questions your Provider usually asks during your intake), you are able to give the Provider enough information to diagnose you without having to speak over the phone. Known for its overwhelming convenience, 9 out of 10 users prefer to use Clever HealthTM's AI-driven questionnaire. Using Clever HealthTM, you and your family have access 24 hours a day, 7 days a week, 365 days a year to state-licensed and fully credentialed Providers in the most convenient way. However, Clever HealthTM consults via chat, phone, or video are still available to you and your family.
Faster–Quicker onboarding, more efficient doctor visits using an AI-driven smart questionnaire, and reduced wait times for you.
Better–Using intelligent intake, local Providers, and population health intelligence, Clever HealthTM reduces errors and can provide proper follow-ups and ongoing care at local facilities.
How Do I Get Started?
Let's cut to the chase. Using the Clever HealthTM App you can:
Initiate a Smart Virtual Care visit via an asynchronous questionnaire, chat, telephone, and video
Access mental health chat resources 24/7
Search discounts on over 55,000 FDA approved medications, 40% of which cost $10 or less, at over 80,000 pharmacies nationwide
To do all of the above, we highly encourage you to download the Clever HealthTM App on your smartphone. This is crucial to getting the most out of your Smart Virtual Care, mental health resources, and RX Discounts – it's important to note that the Clever HealthTM App does not work on your desktop or computer.
Still have questions about Smart Virtual Care (Telemedicine)? Feel free to reach out to our Member Support Team by phone at (855) 699-1274, Monday through Friday, 8 am — 6 pm CST. We'll answer any questions you may have! You can also visit our OneShare Health Blog or check out the OneShare Health Knowledge Base!

Become a Member of our Christian health share, and help us spread compassionate care.
Jesus taught his disciples to not "withhold good from those to whom it is due, when it in your power to act," and health sharing ministries like OneShare continue to uphold this commandment. Through our Membership Programs, we aim to address a great need across the United States: access to affordable health care. Read more about how Christian health ministries are giving back to the community by checking out OneShare Health reviews online. We can't wait to have you join our Family.

"And my God will supply every need of yours according to his riches in glory in Christ Jesus."
Philippians 4:19 (ESV)

1Smart Virtual Care (Telemedicine) is not owned or operated by OneShare Health, LLC but made available to OneShare Members by Clever Health™.