OneShare Health addresses Sharing Eligibility related to Cancer care.
One word strikes insurmountable fear into us all: Cancer. In 2020 alone, it's estimated that more than 600,500 people will succumb to this insatiable disease. Fortunately, Cancer symptoms, and even the disease itself, can be alleviated with proper treatment as well as with the love, compassion, and support of a Faith Community that wants to see you well. That's where OneShare Health comes in.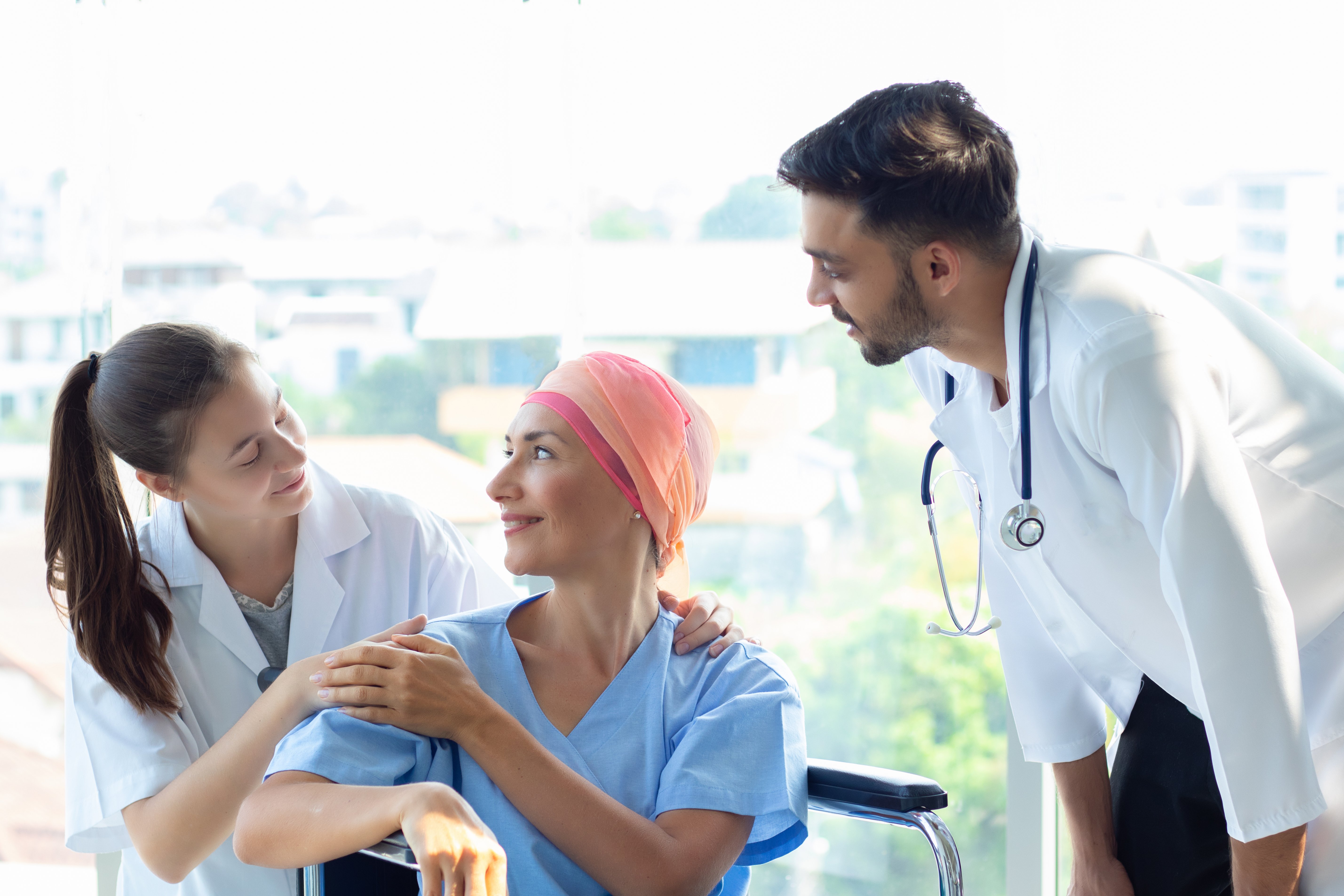 Looking for community in health care? Join our Christian Health Care Sharing Ministry today!
Christian health share ministries like OneShare Health offer an affordable alternative to conventional health care via medical sharing, which is the voluntary sharing of medical bills amongst Members of our Faith Community. Join our Family today!
How long is cancer considered a pre existing condition? Is cancer a pre existing conditions? See if your cancer treatment OneShare eligible and more below.
At OneShare Health, your physical wellness is our number one priority, which is why we've designed a full suite of Sharing Services that encompasses a broad range of medical issues.
For Members who have never been diagnosed or received treatment for any type of Cancer, sharing is Eligible after a 90-day Waiting Period for newly diagnosed Cancers. However, exclusions and limitations may apply if a Member is diagnosed with Cancer within the 90-day Waiting Period or has certain Pre-Existing Conditions, including a history of Cancer.
How does OneShare Health Define 'Pre-Existing Condition'?
OneShare Health defines Pre-Existing Condition as follows:
"Pre-Existing Condition" means any sickness or Injury for which a Member received medical treatment, advice, care, or services including diagnostic measures, took prescribed drugs, or showed signs and symptoms, whether treated or not, within 24 months before the Member's Effective Date of their Program. Eligibility for a Pre-Existing Condition has a 24-month Waiting Period.
Determining what is and isn't considered a Pre-Existing Condition can be a huge source of turmoil for Members who would like to begin or continue receiving treatment. To avoid confusion, OneShare Health considers Cancer a Pre-Existing Condition if you received medical attention for it within 24 months before your Program's Effective Date.
Is Cancer Treatment Eligible for Health Care Sharing?
Yes, as long as the Cancer is not recurring or considered a Pre-Existing Condition, Cancer treatment (including chemotherapy and radiation) is Eligible for Sharing, subject to Program Guidelines. Let's review some of those Guidelines here:

Cancer treatment is not Eligible for Sharing (including diagnosis and treatment expenses related to that specific Cancer, recurrence, or metastasis of that Cancer) if the Member:
Was diagnosed with Cancer within the 90-Day Waiting Period.

Was diagnosed with any Cancer within five (5) years prior to their Effective Date.

Was diagnosed with any recurring Cancer, regardless of how long ago it first was diagnosed or treated.
Cancer treatment is Eligible for Sharing after the 90-Day Waiting Period if the Member:
Has never had Cancer and is

newly diagnosed.

Had Cancer more than 5 years prior to their Effective Date, or was newly diagnosed with a different, new, or not previously diagnosed Cancer and can provide medical reports.
The medical reports must indicate there was no ongoing treatment for Cancer and no future treatment was prescribed, recommended, or planned; and they must show the Member has followed the guidelines for Preventive Screening of Cancer, as well as followed guidelines for a healthy lifestyle as recommended by the attending physician.
Is There a Maximum Limit for Cancer Care and Treatment?
Yes; the Lifetime Maximum Limit for all Cancer is $500,000, and each incident cannot exceed the Maximum Limit Per Incident (i.e. the Eligible amount to be shared for a specific medical incident or diagnosis under the terms of Membership Guidelines).


Does OneShare Health Offer Cancer-Related Preventive Services?
Great question. Adult Members of our Classic and Complete Programs who are Eligible for Sharing Services related to Cancer are also 100% Eligible for the following Preventive Services after the 90-Day Waiting Period:
Wellness Visit

BRCA Counseling

Cervical Cancer Screening*

Colorectal Cancer Screening*

Breast Cancer Mammography

Tobacco Cessation Counseling

Breast Cancer Chemoprevention Counseling
*All screenings must be age- and gender-appropriate.
Do you have more questions about Pre-Existing Conditions and Sharing Eligibility? Visit the OneShare Knowledge Base to get answers. Remember: OneShare Health is here for you and your loved ones.

Become a Member of OneShare Health's Catastrophic medical cost-sharing Program!
Health sharing ministries are an affordable alternative to traditional and Christian health insurance, and the benefits of joining OneShare Health are undeniable. Do you or a loved one have an ongoing health concern or medical need?* Enroll in our Complete medical cost-sharing Program to receive a full suite of cutting-edge Membership Discount Services and preventive care. Break the mold with us – become a Member of our health share now!

"For we are his workmanship, created in Christ Jesus for good works, which God prepared beforehand, that we should walk in them."

Ephesians 2:10 (ESV)



ONESHARE HEALTH, LLC (ONESHARE) IS NOT AN INSURANCE COMPANY BUT A RELIGIOUS HEALTH CARE SHARING MINISTRY (HCSM) THAT FACILITATES THE SHARING OF MEDICAL EXPENSES AMONG MEMBERS. As with all HCSMs under 26 USC § 5000A(d)(2)(B)(ii), OneShare's members are exempt from the ACA individual mandate. OneShare does not assume any legal risk or obligation for payment of member medical expenses. Neither OneShare nor its members guarantee or promise that medical bills will be paid or shared by the membership. Available nationwide, but please check https://www.onesharehealth.com/legal-notices for the most up to date state availability listing.

Enrollment in OneShare is not a contract for insurance. Participation in OneShare is voluntary. Enrollment as a OneShare member is voluntary, and the sharing of monetary contributions is voluntary. You are free to cancel your membership at any time. OneShare requests that a voluntary sharing contribution be made for each month you are enrolled, to facilitate the sharing of requests published on behalf of other members.
*Certain Limitations and exclusions apply, including for Pre-Existing Conditions, and may affect Eligibility for sharing.